10 easy craft ideas with buttons
Do you have more buttons that you can sew onto a garment? Or do you want to find a unique way to use some of your special buttons? We share 10 uses for buttons aside from using them as a closure for a garment or accessory. 
First of all collect your buttons. You might want to shop our button collection and pick up some of our low priced deadstock buttons. Then read on to discover plenty ideas of how to use them!
1. Button bobby pins
Match your outfit by using up spare buttons and making these button bobby pins. A few stitches and a touch of glue is all you need to make this super speedy craft. 
A homemakers journal show you how. 
2. Monogram decor
A simple craft with a big impact and an awesome gift idea. Aside from buttons all you really need is glue and cardstock.
American Crafts Studio shows you how in their tutorial.
3. A button garland
A Christmas tree decoration or children's room decor this craft could be completed with the help of older children. 
The Magic Onions has a blog post to show you how.
4. Button Christmas Ornaments
Christmas
Tree, Santa or Snowman? What can you turn your button stash into?
Speech Room Style shows you how. 
5. Button Necklace
A necklace made in just your favourite colours or to match an outfit perfectly? This craft is really giftable to. 
Ohoh Deco walks you through how to do it step by step. 
6. Button game
Not so much of a craft but a great game for children. If you have a big jumble of buttons in a jar why not enlist the help of a child for sorting them?
Learning 4 Kids shows you how to set this up.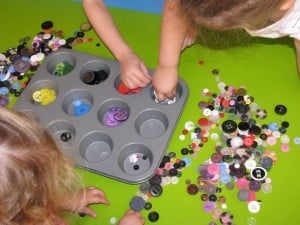 7. Button Bowl
Make a bowl to your exact specifications. This could be a realy conversation starter in your home. 
Watch the video tutorial by CuteNailPolishArt:
 8. Resin paperweights and coasters
Need a coaster for your sewing space? How about one filled with buttons!
There's a blog post showing you how over on Lil Blue Boo.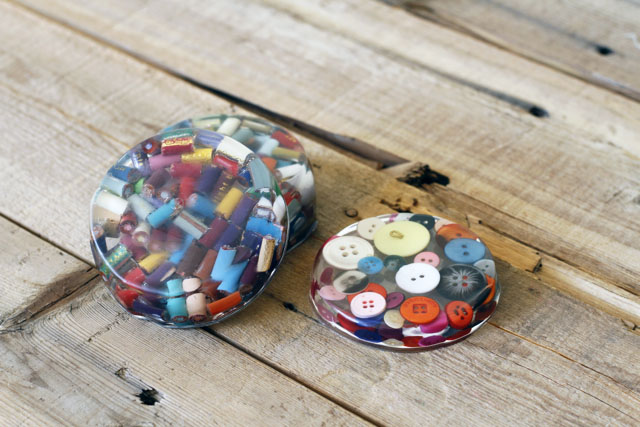 9. Button magnets
This is the ideal way to use up some of those statement buttons you night have lying around. 
Get the 'how to' over on Big Box Detox. 
 10. Gift wrapping with buttons
Add a personalised touch when wrapping gifts by using a button.
There's a tutorial at Craft and Creativity showing you how.